OptimiZ 
Consulting LLC
Box 337, Gilbert, AZ   85299   USA
Office: 480-545-9095
Cell: 480-223-2230
kay@miningopportunity.com
PASSIONATE ABOUT POTENTIAL … CRAZY ABOUT CHANGE!
YOUR MANAGEMENT TEAM OR ORGANIZATION COULD BENEFIT from meeting with a leading expert that has walked in your shoes. Companies are continually challenged in these areas:
MAXIMIZING PROFIT
BUILDING TRUST
MEASURING THE RIGHT THINGS
IMPROVING COLLABORATION
TRANSFORMING CULTURE
REMOVING ORGANIZATIONAL BARRIERS
INCREASING CREDIBILITY
ACCELERATING CHANGE
KAY SEVER can share new insights and strategies that "take the lid off" of your organization and release your hidden profit potential.
Kay is an EXPERT in VALUE STREAM MANAGEMENT…
Companies must manage "across" the organization to achieve their best performance. Historically, companies manage "vertically" according to the chain of command and delegation of authority per the organization chart. This management style creates barriers when there are problems to solve, projects to manage or profit potential to be released by the culture, not the equipment. Key measures and budgets tend to reinforce vertical management thinking and practices, further strengthening the "silos" between departments and the organizational weaknesses that shape corporate culture. When management teams break free of the barriers created by vertical management practices,they gain access to ALL of their profit potential. People can speak freely about problems that need to be addressed, even those that are occurring in other departments. They can begin trusting each other enough to measure the LOSSES CAUSED BY THE CULTURE (not the equipment) and begin working together differently to build a new culture and eliminate the losses.
Kay has UNIQUE INSIGHTS into BARRIERS that hide profit potential, divide people and prevent change…
Kay's desire to find the root cause of hidden losses in business and slow change led her to perform the world's first3-year-study of the barriers to change and optimization.  This study gave her unique insights into change, management's role in change and what is possible to achieve and change, including the fact that we have been STARTING CHANGE IN THE WRONG PLACE FOR THE PAST 100 YEARS! Kay shares those insights when she meets with management teams and audiences.
Kay is FOCUSED ON POTENTIAL: what could have happened… but didn't.
This concept overarches every industry, regardless of product or service. Billions of dollars in UNRECORDED LOSSES occur annually due to this issue. The importance of widening your vision of potential profit and understanding hidden losses cannot be overemphasized. Neither can the fact that culture is heavily impacted by management's day to day choices that affect profit and change from behind the scenes. Every management team should be armed with this information.
Kay can help your MANAGEMENT TEAM or ORGANIZATION with:
TRUST: Your managers do not trust each other andpeople are not free to talk about problems.
COSTS: You set goals for cost reduction but your people have trouble meeting them.
CREDIBILITY:Your managers have lost credibility and you don't know how to rebuild it.
KPIs:You need some new perspectives about key measures and linking those measures to profit opportunities.
COLLABORATION: Your management team has difficulty solving problems, managing projects or executing day to day activities.
CONFLICT: You watch managers behave as if they were on different teams and you want things to change.  
OPTIMIZATION: You want to optimize value stream performance and have purchased equipment/systems to make that happen.
CULTURE: You know that your culture is causing losses, but don't know how to calculate them or make the losses stop.
MERGERS: You are "blending" two cultures and don't know how to get the best from both so you can maximize earnings.
BARRIERS: You want to know more about organizational barriers that steal profit and disconnect people from profit potential.
POTENTIAL PROFIT: You want to know why it's hidden, how it differs from actual or budgeted profit, and how to chase it.
VALUE STREAM MANAGEMENT: You want to know more about advantages of and strategies for managing "horizontally".    
INNOVATIVE ANALOGIES AND PROPS – VIDEO
This 8-minute video highlights some of the innovative analogies about change and optimization that Kay Sever shares with management teams in training, coaching and conference sessions. Her ground-breaking methods for change create "memory anchors" that build on each other. These anchors accelerate change as management teams begin to critically examine and understand how their long-held beliefs and behaviors impact change and optimization.  
Once you see things from a new perspective, you NEVER GO BACK to your old way of thinking! This shift in thinking IS THE SECRET TO SUCCESS with change, optimization and profit maximization. It's time to make this shift a HIGH PRIORITY!
TRUST – BARRIERS, LINK TO PROFIT – VIDEO
This 6-minute video contains examples of insights shared with audiences about organizational trust – the drivers, links to profit and culture, how mixed messages create mistrust, etc. Management has long underestimated or misunderstood the importance of trust in an organization.
Kay's fresh perspectives raise awareness about viewing trust as a source of profit and management's role in creating and sustaining it. Kay's interactive water exercise visually illustrates the source and impact of mistrust in an organization. It creates a "memory" anchor that stays with anyone in management long after the session ends.
IF YOUR COMPANY OR EVENT IS LOOKING FOR A PROGRAM THAT
IS FRESH, MEMORABLE and REALLY DIFFERENT,
MANAGEMENT CAN IMMEDIATELY BUILD ON, and
DRIVES RADICAL AND RAPID ORGANIZATIONAL CHANGE, 
YOU NEED TO TALK TO KAY!
KEYNOTES
Keynote topics include but are not limited to:
COLLISIONS: The Moment When Profit, Culture, Credibility and Change are ALL at Risk!
The Elusive Link Between Trust and Profit, and Management's Role in Creating It
The Power of Moving from a "Cost Reduction" to a "Loss Reduction" Culture
We have been Starting in the Wrong Place with Change for 100 Years!
Do You Understand Your Losses Like Your Understand Your P&L?
SEMINARS / WORKSHOPS
Contact Kay for more information.
Spend A Day With Kay!   NEW!
Trust & Credibility – Lost in a Moment with a Choice
Managing the Big Picture – Rising Above the Organization Chart
Change Wisdom – Management Perspectives That Rule Performance
5-4-3-2-1 BLAST OFF- Escape Your Barriers to Maximize Profit

EXAMPLE – SUMMARY OF CONTENT: 5-4-3-2-1 BLAST OFF – Escape Your Barriers to Maximize Profit
"Root Barriers" START WITH PERSPECTIVES, not equipment, processes, or the workforce. Escaping those barriers IS POSSIBLE with strategies and tactics designed for that purpose. It's time to enter the "FINAL FRONTIER OF CHANGE"…
The Saturn V rocket carried the Apollo astronauts to the moon. It was the first rocket to have 3 stages. The 3RD STAGE was required to escape Earth's gravity. Without it, Neil Armstrong would never have taken that "one small step for a man…"
Just as Earth's gravity kept the moon out of reach, every company has "gravity" that prevents it from reaching its goals for performance. This gravity is made up of invisible barriers to change that make change hard, prevent problems from being solved and deny access to potential for growth. The good news is that it is possible to escape your gravitywith new perspectives on barriers and some innovative "escape strategies". It's time to BLAST OFF to the "Final Frontier of Change", filled with new perspectives about barriers to change, speed of change and what is possible to change and achieve! Attendees will NEVER FORGET this "change experience" and will NEVER GO BACK to their old way of thinking about change! 
FOR MEETING PLANNERS
EVERY ORGANIZATION NEEDS TO KNOW HOW TO REMOVE ITS BARRIERS TO CHANGE TO MAKE MORE MONEY AND CHANGE FASTER. Kay wants to help you have a successful conference or meeting. Here are some tools and suggestions that will help you plan and stage your program. Kay is the right speaker for so many reasons:
COMPANIES and ASSOCIATIONS: Kay's stories about change apply to all industries because people are the same everywhere – they share the same challenges, experience the same conflict, confusion and frustration because management teams make the same mistakes, regardless of the size of company, product or service. 
MINING INDUSTRY EXPERTISE: Kay is the only woman who consults, speaks and writes about improvement challenges in the mining industry (equipment, cost and culture). She has spoken at over 20 mining conferences and events, including MinExpo.
KAY IS AN AUTHOR: In 2008, Kay wrote two editions of "Building An Opportunity Culture – Addressing The Barriers That Steal Profits and Prevent Sustainable Change", a bold and honest look at why change is difficult and why millions of dollars are forfeited in the midst of a structured focus on improvement. See "Products/Books" on this website for more information and a link to purchase it. 
CONFERENCE SPECIAL: Kay will write a customized MiniBook that summarizes her content (with enough lead time). The cover can be customized with your conference theme and/or company logo. Each attendee would receive one as a takeaway. Printing cost would be added to the speaking fee. Kay's time to write the book is FREE – her gift to you!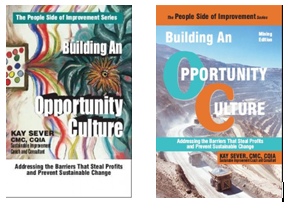 Flexible Packages to Create More Value for Your Audiences:
Combine a keynote and workshop for more interactive learning, more time to share new perspectives and form new mindsets during the event.
Kay's business book could be offered as back of the room sales or included as part of the event package.
Raffle for a free consultation with Kay.
An interactive situational awareness training/coaching session with Kaycould be added to your package.
Kay offers a free 30-day follow-up to conference attendees to answer questions about the material presented. 
Travels From: Phoenix, AZ Contact Information:  Email: kay@miningopportunity.com, Office: 480-545-9095, Cell:  480-223-2230
OPPORTUNITY:
An odorless invisible element defined as a favorable set of circumstances in business. The only element with an infinite atomic number and weight. When discovered, it reacts with management strategies and corporate cultures to produce a desirable green substance found in financial institutions.